Contact         Interests           Publications         Work in progress      Ph.D. students          Projects for students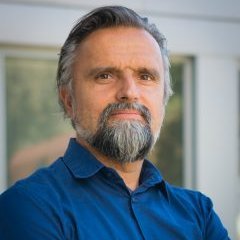 Studied sociology and economics in Budapest, finishing his PhD on solidarity and welfare preferences in 2003. He has published two books and almost hundred papers in scholarly journals and books, covering a wide range of issues, including collective action theory, the role of moral considerations in public policy attitudes and the situation of the Roma of Hungary. In the past five years, he has started to connect the issues of policy attitudes, ethnicity and issue-framing. He developed theoretical models and conducted experiments using vignettes, and has published papers in international field journals in recent years (Janky & Varga 2013, Horváth & Janky 2014, Janky et al. 2014, Csepeli et al. 2014, Janky 2016, 2017). Currently, he is the principal investigator of the research project on "Welfare attitudes: General moral principles, issue framing and survey design", and departmental coordinator of the Sustainable Energetics Research University Program.  >>>download_CV
Contact details
E.710, Department of Sociology and Communication, Faculty of Economic and Social Sciences, Budapest University of Technology and Economics, Egry J. u. 1., H-1111, Budapest. janky.bela@tk.mta.hu
Research interests
Ethnic stereotpes, attitudes towards the poor, the roma population of Hungary, acculturation, rational choice theory
Selected publications
Janky Béla, Bakó Boglárka, Szilágyi Péter, Bognár Adrienn: Stigmatising the Poor Without Negative Images, SOCIOLOGICAL RESEARCH ONLINE 19: (3) Paper 4. 10 p. 2014
Janky Béla, Lengyel György: Contractual Trust: The Long Shadow of the Shadow Economy, In: Szerk.: Katharina Bluhm, Szerk.: Bernd Martens, Szerk.: Vera Trappmann Business Leaders and New Varieties of Capitalism in Post-Communist Europe. Oxford: Routledge, 2013. pp. 134-147. 2013
Janky Béla, Varga Dániel: The poverty assistance paradox, ECONOMICS LETTERS 120: (3) pp. 447-449. 2013
Andrea Dúll, Béla Janky: Environmental Attitudes and Household Electricity Use among Budapest Residents, INTERNATIONAL REVIEW OF SOCIAL RESEARCH 1: (3) pp. 115-131. 2011
Takács Károly, Janky Béla, Flache Andreas: Collective Action and Network Change, SOCIAL NETWORKS 30: pp. 177-189. 2008
Takács K, Janky B.: Smiling Contributions: Social Control in a Public Goods Game with Network Decline, PHYSICA A – STATISTICAL MECHANICS AND ITS APPLICATIONS 378: (1) pp. 76-82. pp. 76-82. 2007
Janky Béla (2007). Social Structure, Transition and Public Attitudes towards Tax Evasion in Hungary. In: Nicolas Hayoz, Simon Hug (szerk.), Tax Evasion, Trust, and State Capacities. Bern: Peter Lang Verlag, pp. 269-287.
Kemény István & Janky Béla (2005). Roma Population of Hungary 1971-2003. In: Kemény István (ed.) Roma of Hungary New York: Social Science Monographs; Atlantic Research and Publications; Columbia University Press, pp. 70-225.
Work in progress
Janky Béla (2018). Changing connotations and the evolution of the effect of wording. Manuscript under review.
Janky Béla (2018). Salience of partisan identity and social attitudes: A sociological perspective. Pre-registered research (https://egap.org/registration/4372) and manuscript.
Janky Béla, Kmetty Zoltán & Szabó Gabriella (2018). Little room for echo chambers: Egocentric publics and political opinion formation among Facebook users.
Janky Béla (2018).  Household chores: Testing gender role asymmetry. Pre-registered research (https://osf.io/k9dtw/register/565fb3678c5e4a66b5582f67)
Janky Béla (2018). Household chores: Testing the effect of the salience of gender identity. Pre-registered research (https://osf.io/p9eb8/register/565fb3678c5e4a66b5582f67).
Janky Béla (2018). The moral citizen. Book in progress (in Hungarian)
Ph.D. students
Boglárka Luca Herge (Corvinus University Budapest, expected: 2020)
Csongor Hajdu (Corvinus University Budapest, 2016)
Katalin Monostori (Corvinus University Budapest, 2008)
Research projects for students
Social interaction and communication in organizations